---
---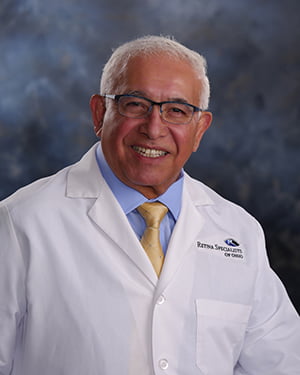 Victor M. Bello, MD
Board Certified Ophthalmologist
Dr. Bello is a Board Certified Ophthalmologist who received his Medical Doctorate from the Federal University of Bahia School of Medicine in Brazil. He relocated in 1972 to Cleveland, Ohio. He received his specialty training at Case Western Reserve University Hospitals of Cleveland.
Once he completed his training at CWRU, Dr. Bello joined Dr. Robert Blondis in 1979 in the practice of ophthalmology. Upon Dr. Blondis' retirement, Dr. Bello remained at the helm of the practice and in 1996 he expanded, purchasing the practice of Dr. Marinos Hionis in Euclid, Ohio.
Throughout his career, Dr. Bello has been recognized for his outstanding service to the community of medicine. He was president of the Academy of Medicine of Cleveland and Northern Ohio. In 2002, he received the Charles Hudson, MD for Outstanding Service Award from the Cleveland Academy of Medicine. He also received the coveted 'Clinician of the Year' award from the Cleveland Academy of Medicine in 2008.
Dr. Bello has a wife and five children and lives in suburban Cleveland Ohio. He's very active on the lecture circuit and participates in many fundraising events. He speaks fluent English, Spanish, Portuguese, Italian, and French.
Dr. Bello currently accepts new general ophthalmology patients at our Willoughby Hills location; The Complete Eyecare Institute, Inc.
CALL FOR AN APPOINTMENT: 440.975.8200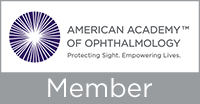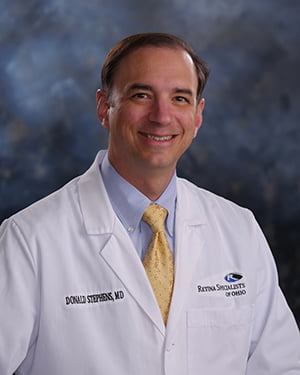 Donald C. Stephens III, MD
Board Certified Ophthalmologist and Vitreo-Retinal Surgeon
Dr. Stephens, a Diplomate of the American Board of Ophthalmology, received his undergraduate degree from Kent State University and his medical degree from the University of Cincinnati. He completed a four-year residency at the Albert Einstein College of Medicine, Montefiore Medical Center. Dr. Stephens also is Fellowship trained in the treatment of retina and ocular trauma diseases.
Having traveled extensively throughout the Dominican Republic, Dr. Stephens is President and Founder of Vision Quest, a non-profit group that provides free eye care to the underserved in that region.
Dr. Stephens is fluent in several languages including Spanish and Italian, and has helped chair many public health education projects. Of particular interest to Dr. Stephens is utilizing the newest FDA approved advancements in the treatment of macular degeneration and diabetic eye disease.
Specializing in:
Retina
Diabetic Eye Disease
Macular DegenerationProfessional Associations:
America Society of Retina Specialists:www.asrs.org
American Academy of Ophthalmology:www.aao.org
Summit County Medical Society:www.scmsoc.org
Association of University Professors of Ophthalmology:www.aupo.org
Education:
Fellowship
University of Alabama at Birmingham, Birmingham, AL
Retina & Vitreous Associates of Alabama
Ophthalmology Residency
Montefiore Medical Center, Bronx, NY
Albert Einstein College of Medicine
Internship
Summa Health System, Akron, OH
Current Positions:
Chief, Division of Ophthalmology
Akron General Medical Center
Affiliated with:
Akron General Medical Center
MetroHealth Medical Center
Novus Clinic
Parma General Hospital
LakeWest Hospital
Wright Surgery Center
Barberton Citizen's Hospital
Medina General Hospital
Robinson Memorial Hospital
Summa Health System
Akron City Hospital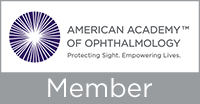 ---
---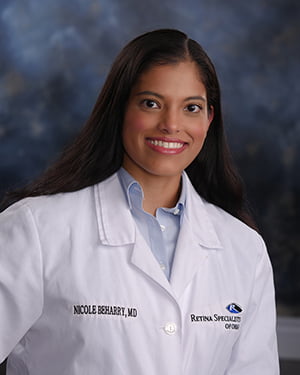 Nicole C. Beharry, MD
Board Certified Ophthalmologist and Vitreo-Retinal Surgeon
Nicole C. Beharry is from Stroudsburg, PA. She attended Temple University in Philadelphia, PA where she earned a Bachelor of Science degree in Biology. She went on to earn her medical degree from Temple University School of Medicine. She completed a Transitional Year Residency at Crozer Chester Medical Center in Upland, PA. This was followed by a ophthalmology residency at Geisinger Medical Center in Danville, PA. She then completed a two year Fellowship in Vitreo-retinal and Ocular Trauma with Retina Specialists of Ohio and Akron General Medical Center.
In her free time, Dr. Beharry enjoys hiking, running, swimming and cooking.
Professional Associations: American Academy of Ophthalmology, American Society of Retina Specialists, Women in Ophthalmology

Specializing in:
Retina
Diabetic Eye Disease
Macular Degeneration
Professional Associations:
America Society of Retina Specialists:www.asrs.org
American Academy of Ophthalmology:www.aao.org
Education:
Fellowship
Retina Specialists of Ohio/ Akron General Medical Center
Akron, OH
Ophthalmology Residency
Geisinger Medical Center
Danville, PA
Internship
Crozer Chester Medical Center
Upland, PA
Affiliated with:
Akron General Medical Center
Novus Clinic
Wright Surgery Center
Summa Health System
Akron City Hospital